Is hay fever keeping you awake?
Blocked, stuffy, runny nose, sneezing, itchy nose & eyes are all signs that pollen is in the air. If it's not a common cold, then it's probably hay fever.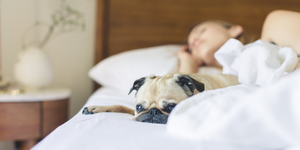 How Breaze pillowcases work
Infused with a blend of 10 powerful essential oils Breaze pillowcases help to clear and calm stuffy, itchy noses and eyes irritated by pollen, dust or pets.
Motion-sensitive, restless heads release the fragrance which includes natural antihistamine and natural decongestant, working all through the night for a better night's sleep. Zzzz.
Suitable for the whole family including babies from 3 months old.
Over 300 reviews on Trustpilot. 94% rated Breaze 5-star or 4-star. Here's why...
I have suffered with allergies all of my life which has got steadily worse as I have got older.

I cannot believe in just 2 days my constantly blocked and itchy nose is no longer blocked and nor do I feel awful because I haven't slept.

Keith on Trustpilot
I can honestly say it's such a relief to wake up without a stuffy nose, no sneezing fits and quite a clear head

Sam on Trustpilot
I'm finally free of antihistamines!!
After only a day I woke up feeling refreshed and better than I had in years!! I can't recommend enough.

Dionne on Trustpilot
Incredible. Within 48 hours of using the pillowcase and drops, gone are the itchy eyes, stuffy nose and dry throat. My daughter and I have been sleeping like babies!

Ursula on Trustpilot
Fantastic product son woke up first time in 2 months not being blocked up and had full night sleep because he could breathe! Not overpowering and felt comfortable knowing it's natural.

Gemma on Trustpilot
24/7 Breaze helps all day too!
Inhale the same soothing Breaze vapours on a tissue or hankie - or use in a diffuser or vaporiser.
Dual action our barrier balm can also trap pesky pollen before it gets up your nose - instant relief when you are on-the-go!
All natural, non-drowsy, use as much or as little as you need.