Helping Children's Hay Fever
Instantly soothe stuffy, itchy noses all day, and throughout the night.
For the whole family
Our vapour oil, barrier balm and motion sensitive pillowcases are all 100% natural, making them not just suitable for adults, but anyone over the age of 2.
Rated EXCELLENT on Trustpilot.
93% of parents of children & teenagers with hay fever say Breaze helps!
Brilliant products! I have tried EVERYTHING on the market over the years and nothing has worked as well as these pillow cases.

My daughter gets the most benefit, she wakes up happy, clear headed and without having used a whole box of tissues throughout the night. Absolutely brilliant!

Emma K.
I have used the pillowcases, essential oil and barrier balm for both my son and me. The smell is lovely and is effective in helping with hay fever symptoms.

Great solution for children. Deliveries are efficient and overall great service! Thank you.

Lorna R.
Summer for my daughter - what a nightmare when you have hay fever!

Since having Breaze pillow cases and the oil, she has been able to sleep better at night and wake without a stuffed up nose.

I've notice she's not needed her eye drops as much either and can go and enjoy outside more than usual - thank you!

Sally R.
This product is incredible. Within 48 hours of using the pillowcase and drops, gone are the itchy eyes, stuffy nose and dry throat.

My daughter and I have been sleeping like babies!

No more antihistamines, eye drops and nasal sprays, hurrah!!! Thank you Breaze.

Ursula O.
My son has had hay fever since he was 3 and it has gradually got worse. He is now 12 and we pretty much spend 2 months a year shut inside as it aggravates his asthma. Breeze is one tool on our arsenal and I tried it out of desperation - I was very sceptical. It is magic!

My son can finally breathe at night and sleep which makes such a difference. We use the oil in a vaporiser in the day when he is especially bad and also on a hanky. He can go outside again and we love it.

Mrs Powell.
Gets to work, straightaway
Simply pop a few drops of vapour oil onto a tissue, hankie (or a teddy for younger children) - instantly, the soothing fragrance helps clear the airways, for easier breathing and less 'itch'.

Use as little or as often as needed.

Our allergen barrier balm is perfect when on-the-go. Dual action, the balm prevents pollen from entering the nose, whilst releasing the same soothing fragrance.
Breaze is 100% natural, so older children often use it independently.
Our pillowcases go under a regular pillowcase. Restless heads release the micro encapsulated fragrance throughout the night, so everyone gets a good night's sleep.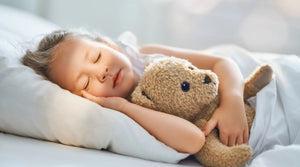 Allergies in Older Children and Teenagers
The vapour oil and barrier balm are pocket sized and easy for an older child to use independently. Breaze is not a medicine so it doesn't need be handed in to a teacher or school nurse unless of course you feel your child isn't old enough to use it themselves.
Our Story
Our founder Sam created Breaze for her own son Theo when he was struggling with allergies during his exams.
Read more